The Eatwell Guide and Resources
Northern Ireland specific
The Eatwell Guide makes healthy eating easier to understand by giving a visual representation of the types of foods and drinks we should consume and in what proportions to have a healthy, balanced diet.
Last updated: 15 December 2020
Last updated: 15 December 2020
What is the Eatwell Guide?
The Eatwell Guide divides the foods and drinks we consume into five main groups. Try to choose different foods from each of the food groups to help you get a wide range of nutrients that your body needs to stay healthy and work properly.
These food groups include:
fruit and vegetables
potatoes, bread, rice, pasta and other starchy carbohydrates
dairy and alternatives
beans, pulses, fish, eggs, meat and other proteins
oils and spreads
The proportions shown in the Eatwell Guide are representative of the food you eat over a period of a day or even a week, not necessarily at each meal time. 
Foods that are high in fat, salt and sugar are placed outside of the Eatwell Guide as these types of foods are not essential in the diet and should be consumed less often and in small amounts.
We should also aim to drink 6-8 glasses of fluid each day. Water, lower fat milk and sugar-free drinks including tea and coffee all count.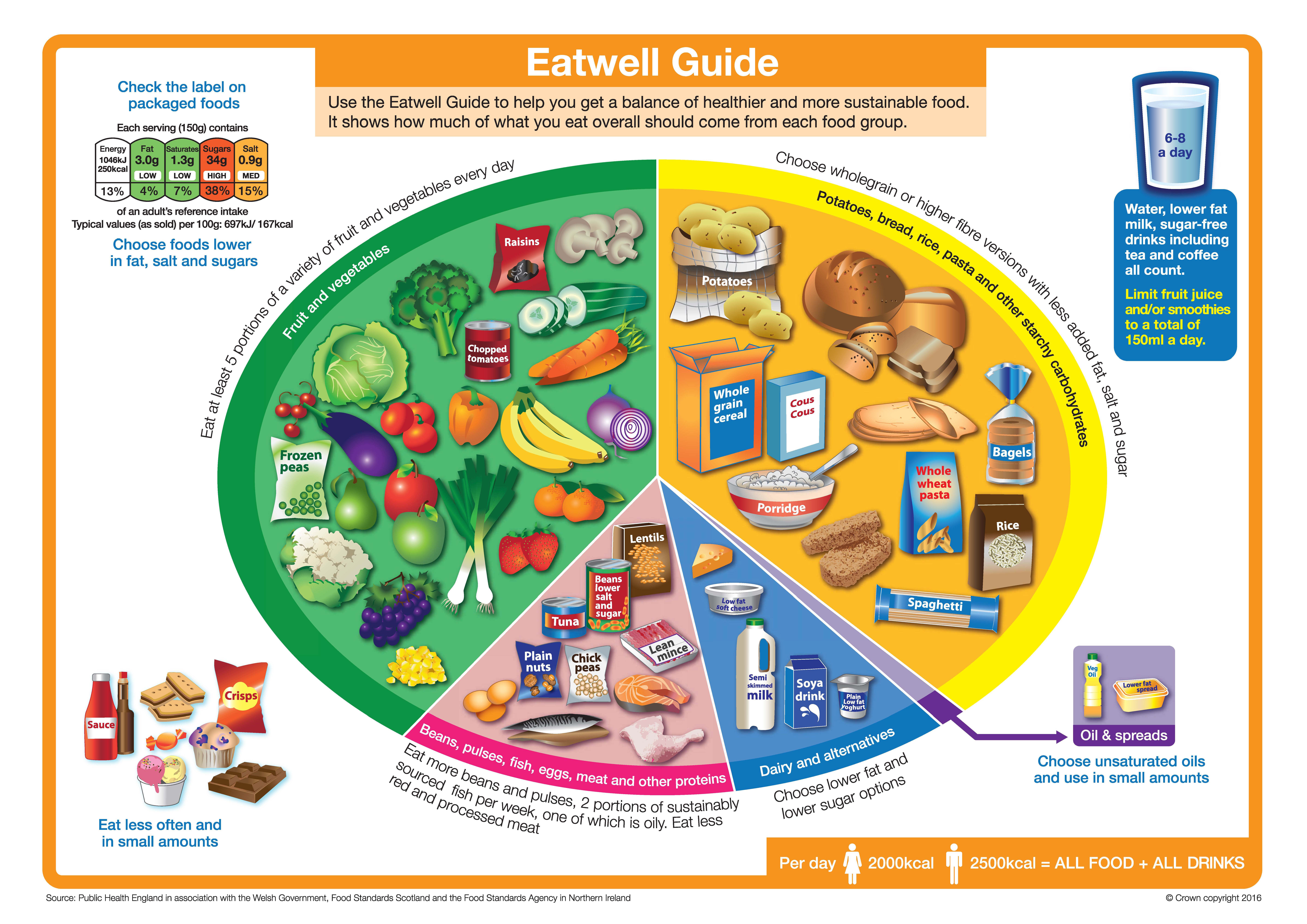 Who is the Eatwell Guide for?
The Eatwell Guide applies to most people regardless of weight, dietary restrictions/preferences or ethnic origin. However, it does not apply to children under two years of age because they have different nutritional needs.
Anyone with special dietary requirements or medical needs should check with their GP, or a registered dietitian, on how to adapt the Eatwell Guide to meet their individual needs.
Eatwell Guide Resources
We have a range of resources available to help everyone understand and learn about the Eatwell Guide.
Eatwell Guide booklet – An A4 booklet with a detailed summary of each food group of the Eatwell Guide and tips on how to achieve these recommendations.
8 Top Tips for Eating Well – An A5 leaflet with 8 top tips for eating well.
Eatwell Guide A2 Poster
Eatwell Guide Z Card – A4 size Eatwell Guide which is folded to pocket size and also contains 8 top tips for eating well.
FSA Little Book of Green Light Recipes – An A5 booklet made up of 20 recipes that have green traffic light labelling, and contains some money saving ideas.
Eatwell Bingo - A reusable, educational game designed for everyone to learn about good nutrition using the Eatwell Guide, through interaction and fun.
Traffic light labelling card – A credit card sized guide that explains traffic light labelling.
Please contact Executive.Support@food.gov.uk for more information on how to order the resources. Please note that these resources can only be delivered to addresses within Northern Ireland. 
More information
Further information can be found in our Eatwell Guide booklet: