Meat and poultry recipes
Beef meatballs with tomato sauce
An Italian dish which is easy to make for friends and family, served with pasta.
Last updated: 10 October 2022
Last updated: 10 October 2022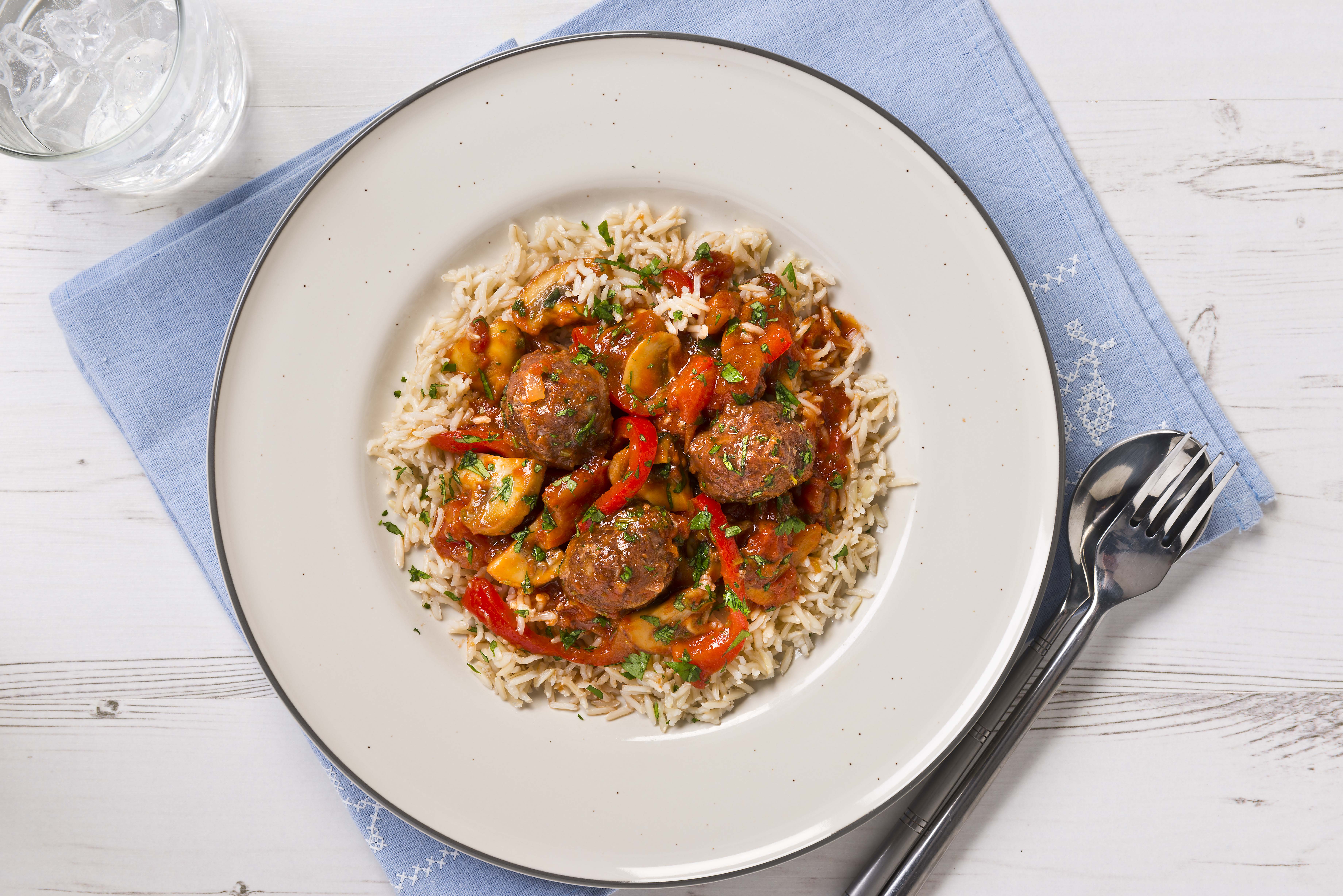 Serves: 4
Time: 1 hour 5 minutes
Ingredients
1 onion, finely chopped
2 cloves garlic, finely chopped
200 grams lean beef mince
1 tablespoon oil
1 tin of chopped tomatoes
2 tablespoons tomato puree
2 teaspoons mixed dried herbs
200 grams mushrooms, sliced
100 grams fresh or frozen pepper, chopped
Method
Mix a quarter of the chopped onion and garlic with the mince.
Shape the mince into small balls about half the size of a golf ball.
Heat the oil and fry the meatballs in a pan until browned all over.
Remove the meatballs from the pan and set aside on a plate.
Add the remaining onion to the pan and cook until soft.
Add the remaining garlic and cook for another minute.
Add the chopped tomatoes, tomato puree, herbs, mushrooms, peppers and meatballs to the pan.
Bring the sauce to the boil, cover with a lid and simmer for 30 minutes.
Serve with pasta or boiled rice.
Nutritional information
| Each serving provides | Amount in grams |
| --- | --- |
| Energy | 741 kilojoules/176 kilocalories |
| Fat | 5.7 |
| Saturates | 1.6 |
| Sugar | 10.7 |
| Salt | 0.17 |
Typical values per 100g: Energy 252kJ/60kilocalories
The information stated above is based on each serving of beef meatballs with tomato sauce and excludes suggested accompaniments.
Read more on our Healthy recipes page.