Fish recipes
Pasta with tuna and beans
Northern Ireland specific
Add some fibre to your diet with this tasty dish, packed with pasta, tuna and beans.
Last updated: 10 October 2022
Last updated: 10 October 2022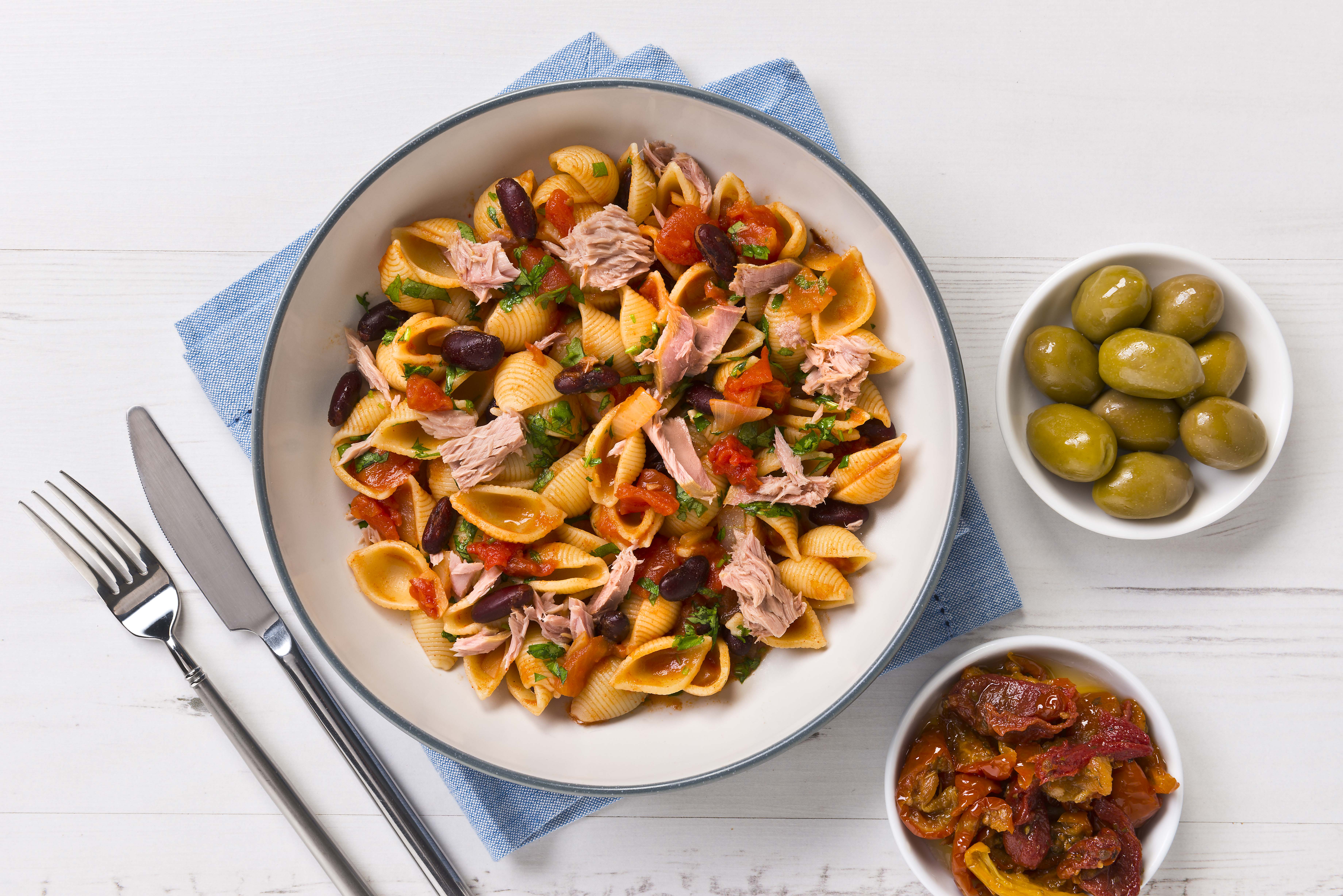 Serves: 4
Time: 25 minutes
Ingredients
1 tin chopped tomatoes
1 small onion, finely chopped
1 clove garlic, crushed
360 grams dried pasta shapes
1/2 teaspoon paprika (optional)
1/2 tin beans, such as kidney beans or chickpeas, drained and rinsed
Small tin of tuna in water, drained
Method
Cook the tomatoes, onion and garlic in a saucepan for 10 minutes, stirring occasionally until the onion is soft.
While the vegetables are cooking, boil the pasta for about 10 minutes, following the instructions on the packet (don't add any salt).
Season the tomatoes with paprika, stir in the drained beans and cook for another 5 minutes.
Add the tuna and stir gently to heat through for a few minutes.
Then, pour the tuna sauce over the pasta and serve with salad.
Handy tip: Alternative recipe: Leave the beans out. Add chopped courgette, mushrooms or carrots. Use fresh or dried herbs such as basil or oregano. Add chopped sun-dried tomatoes or olives (but note both will add salt to the recipe).
Nutritional Information
| Each serving provides | Amount in grams |
| --- | --- |
| Energy | 1682 kilojoules/397 kilocalories |
| Fat | 2.2 |
| Saturates | 0.32 |
| Sugar | 7.8 |
| Salt | 0.06 |
Typical values per 100g: Energy 662kJ/156 kilocalories
The nutritional information stated above is based on each serving of Pasta with Tuna and Beans and excludes suggested accompaniments.
Read more on our Healthy recipes page.